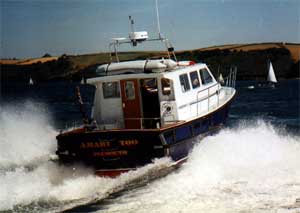 Based upon the popular and successful semi displacement CYFISH hull design the new moulded 'PILOT' superstructure model is aimed at the discriminating owner, who really wants to use his vessel in most conditions all through the year

Internal fit out is to the owners and their families own particular preferences, nothing is moulded in, and bulkheads and accommodation spaces can be built in as required, even the wheelhouse can be shortened to create a larger cockpit for angling / chartering etc. The choice of woods, surfaces cloths and almost any part of the craft can be individually specified, or even owners supply if desired.

With a choice of single or twin shaft drives, stern drives, jet drives or surface-pierces, with any choice of propulsion engines, your own preferences can be easily met.
CyFish Pilot Lines Plan and Specification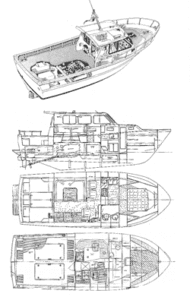 Some Diagrams are not to scale. All craft are custom built and may not match diagram above
Overall Length
Metric 10.0m Imperial 33'-0''
Draft
Metric 1.06m Imperial 3'5''
Beam
Metric 3.65m Imperial 12'-0''
Engine Power
Metric 300 kw Imperial 400hp
Fuel Capacity
Metric 680-900 litres Imperial 150-200 galls
Dimensions in FT and Inches
This Cygnus boat is available from 
Fionan Murphy
F.M. Marine Services Ltd
Ballymanagh, Valentia Island
Co Kerry, Ireland
Reg. Nr.: 9645613L
M: +353 (0)8 72 80 98 61
T: +353 (0)6 69 47 68 83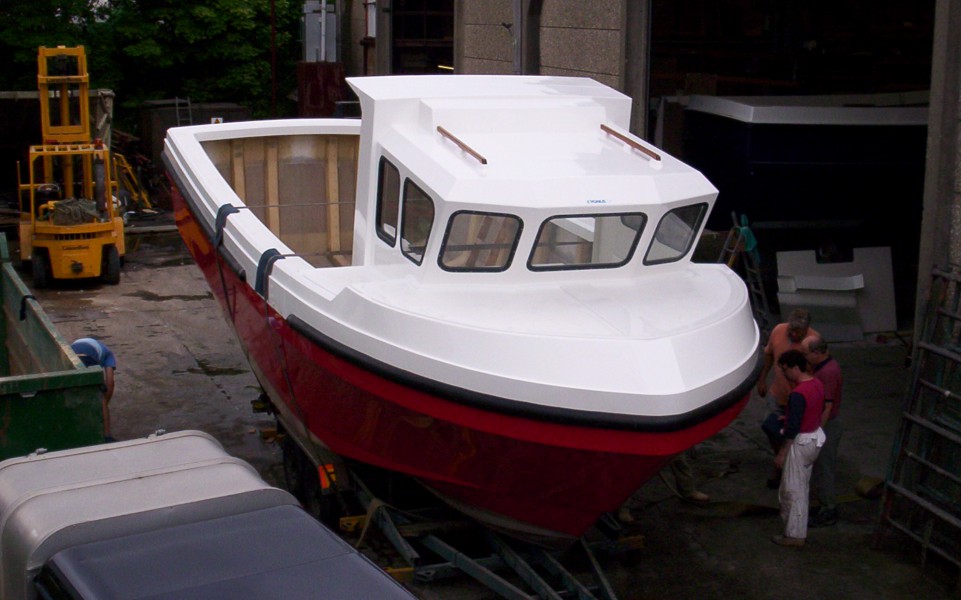 The Cygnus Cyfish Pilot
The Cygnus Cyfish FC can be built in the size 33 to 39 feet and any length in between. These are the original Cygnus moulds. There is a choice of three different wheelhouses: The fisherman (trawler style) wheelhouse, the Angling wheelhouse and the Forward Control wheelhouse.
See the pictures section for the different wheelhouses. The hull is a strong, fast and bespoke semi-planning hull. The vessel has a large cockpit area. The developed shines and spray deflectors provide a very stable platform and a dry ride.
The Cygnus Cyfish is the benchmark for any sea boat in its length. Its performance in bad conditions makes it the preferred choice in its class. It can be supplied at any stage of completion for home or local boatyard fit out, or fully finished at our boat-building yard in Ireland.