The BISCAY 36 was originally conceived, quiet simply, as the ideal cruising yacht. Materials were to be carefully selected to achieve this aim both traditional and new, each chosen for its ability to perform its function to the highest standards.

The yacht was designed to be for the owner who wishes to cruise long distances with consistently good performance, whether under sail or motor.
It was to have at least five berths, be around 36 feet long, have a full keel, and be ketch rigged. It had to appeal to the man who would expect the best.
Biscay Lines Plan and Specification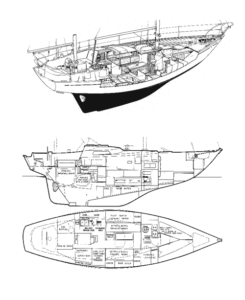 Some Diagrams are not to scale. All craft are custom built and may not match diagram above
Dimensions in FT and Inches
This Cygnus boat is available from 
Falmouth Boat Construction
Little Falmouth Yacht Yard
Flushing, Falmouth
Cornwall, TR11 5TJ
T +44 (0)1326 374309
Two competitors in the 2018 Golden Globe solo non-stop round the world race have chosen Falmouth Boat Co. to refit their yachts – one of which was originally built at the Flushing boatyard.
Antoine Cousot (France) and Nabil Amra (USA / Palestine) have selected Biscay 36 class ketch yachts for the 27,000 mile retro non-stop circumnavigation.
The race will commemorate the 50th anniversary of Sir Robin Knox-Johnston's major achievement in becoming the first to sail solo non-stop around the world. After leaving Falmouth in 1968 he returned 312 days later as the sole finisher in the original Sunday Times Golden Globe Race.
Falmouth Boat Co. built 29 of the traditional long keeled yachts from 1975 – 1990 and Antoine's yacht was the first built.