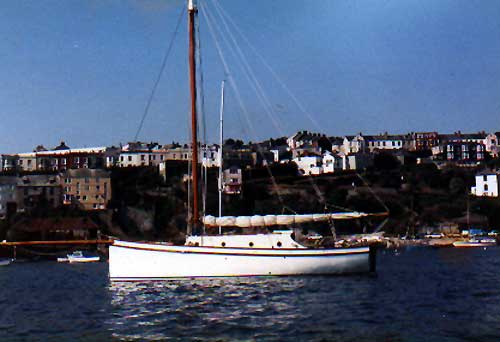 The Cygnus Gaffer 29 is based on the Falmouth Working Boat which are traditional gaff cutters, principally designed and built for work. Today, the gaffers still earn their living dredging for oysters under sail, as powered vessels are forbidden by law.
The working boat rig has evolved over the decades, resulting in the most efficient and practical rig for such work. The large mainsail is balanced by the jib set well forward on the bowsprit. The hull shape, although moulded in GRP, is identical to the classic design and features a vertical stem with fine entry, a long keel providing good lateral resistance and sailing performance, and a wine glass transom.

Derived from the working boat is the cruising version with a reduced sail area and easy-to-handle gaff rig. The cruiser encompasses all the features of her working sister but with comfortable accommodation for up to five crew. The coach roof permits full standing headroom in the main saloon and galley area. An auxiliary engine can be fitted neatly below the self draining cockpit. A flush foredeck and wide side decks make for safe family cruising.
A comfortable and safe cruising yacht with a sound pedigree built by craftsmen for discerning sailors.
Working Boat Lines Plan and Specification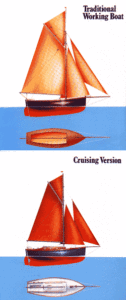 Some Diagrams are not to scale. All craft are custom built and may not match diagram above
Length Over Deck
Metric 8.6m Imperial 28'-3'
Length Over Bowsprit
Metric 11.1m Imperial 36'-4'
Length Over Waterline
Metric 8.3m Imperial 27'-4''
Draught
Metric 1.1m Imperial 4'-8''
Beam
Metric 2.9m Imperial 9'-6''
Displacement
Metric 7130kgs Imperial 15000lbs
Ballast
Metric 4070kgs Imperial 8960lbs
Recommend inboard power
Metric 14kw Imperial 20 hp
Dimensions in FT and Inches
This Cygnus boat is NOT available