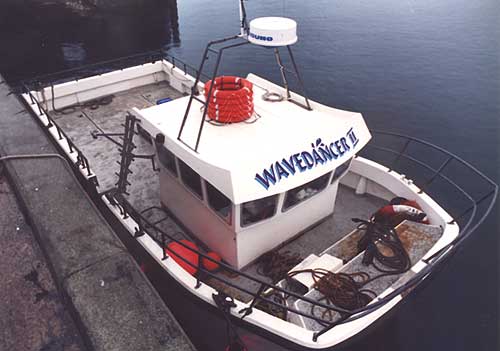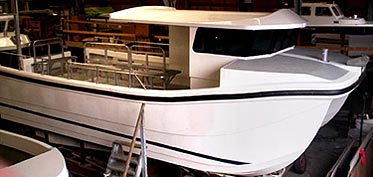 The exciting and versatile CYGNUS BOSSCAT design is now in production at CYGNUS MARINE, bringing for the first time a range of planning catamarans to the CYGNUS portfolio.
Having now been proven over the past three years on the Northumberland coast by the first two prototypes, the 33′ (10 metre) x 15′ (4.5metre) Wavedancer 2 operating as a charter boat, driven by twin water jets and featuring a stand free walk around wheelhouse. Also the 30′ (9.1 metre) x 12′ (3.7 metre) Amathus is a commercial potter driven by twin Cummins and water jets and having a forward offset wheelhouse and whale back makes this design capable of daily beach launching and recovery. A twin shaft drive support 10m boat is now under construction.
Available at various stages of completion the CYGNUS BOSSCAT is supplied with sea fish approval, generally powered by twin diesels via the option of shafts jets, leg drives or even surface piercing propulsion.
The unique hull forms reduce slamming to almost NIL and with its high freeboard and bridge deck a very dry ride.
Available moulded in any lengths between 8.0 and 10.0 metres with variable beam at either 3.7m or 4.2m capable of speeds up to 30 knots.
BossCat 30 Lines Plan and Specification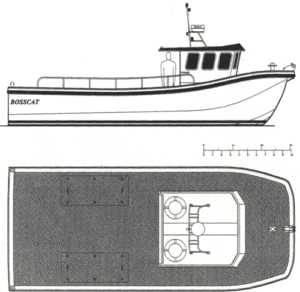 Some Diagrams are not to scale. All craft are custom built and may not match diagram above
This Cygnus boat is NOT available