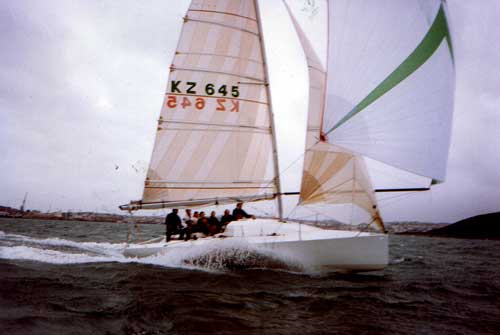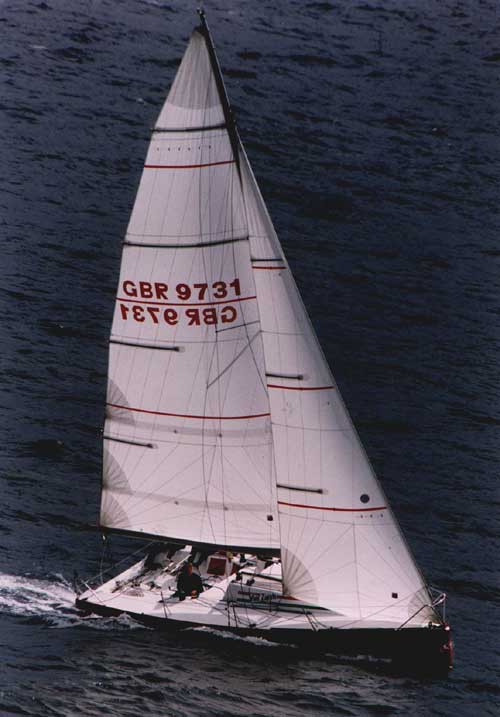 The hull form is a radical departure from the accepted norms which have evolved under the rating rules. The hull lines where conceived by New Zealand yacht designer Jim Young who tempted Greg Peck from Cornwall to build a cedar prototype. Greg having made numerous yacht campaigns in recent years had his own requirements for deck design and outfit. The combination produced "Camp Freddie" one of the most exciting boats afloat.

A set of moulds taken from "Camp Freddie" now offer Rocket31's at various stages of completion. It is not intended to make the yacht a one-design, rather a development class based on the easily driven hull. Rigs, keels, engines and internal outfit etc can be to owners preferences. This is the type of boat that many yachtsmen have been waiting for – fast, fun, safe and available for economic home completion.

The most striking feature of the Rocket31 is the beam; its 3.8m (13ft) making it feel like a 12.0m on deck. The aggressive shape and wide stern make her look and sail extremely fast. A useful feature is the fin and bulb keel which fits into a dagger board style slot from under the hull and only takes a few minutes to remove making transport and storage easy.

"Camp Freddie" is fitted with a double swept back spreader mast without backstay or runners which allows a large roached fully battened mainsail to be used for enormous power. "Camp Freddie" used a conventional spinnaker pole and asymmetric fractional or masthead kite or retracting bowsprit.
Rocket Lines Plan and Specification
Some Diagrams are not to scale. All craft are custom built and may not match diagram above
Length over Deck
Metric 9.67m Imperial 31.7'
Length on Waterline
Metric 8.4m Imperial 27.56'
Beam
Metric 3.9m Imperial 12.8'
Draught
Metric 2.28m Imperial 7.5'
Displacement
Metric 2180kgs Imperial 4796lbs
Measurement I
Metric 10.7m Imperial 35.1'
Measurement J
Metric 4.5m Imperial 14.8
Measurement P
Metric 12m Imperial 39.4'
Measurement E
Metric 5.4m Imperial 17.7'
Sail Area U/W
Metric 68m Imperial 727ft
Sail Area D/W
Metric 147m Imperial 1572ft
Dimensions in FT and Inches
The Young 88 and then radical Rocket 31 were ideal for the new technology which offered great strength with spectacular saving in weight. It is now popularly known as Cedar Core construction. The Y88 plug was built by Greg Elliott and the Rocket 31 was built by Terry Cookson. They were the first yachts to be built using the technology….
Camp Freddie, a Rocket 31 built and sailed by Greg Peck in the UK won every regatta she entered. She was the overall winner of Class One Cowes week in the UK in 1994. In strong winds. Her slightly lower spec. sister Zapata won Class Two. Camp Freddie then went on to win the Round Isle of Wight race against 1800 starters. The only New Zealand design to make such a coupe. Yet the local yachting press didn't even notice!
The concept of the light, dinghy type, high performance keel yacht had never been seen in the Northern Hemisphere. Nor had it been seen in New Zealand before 1980. I believe it was the astounding performance of Camp Freddie (one UK yachting scribe describing her as looking like a squashed jandal) that inspired the now globally popular production sports yacht.
Following an impressive career in the marine industry, one of the great New Zealand designers and boat builders, the legendary Jim Young, designed the Rocket 31
Camp Freddie, a Rocket 31 built and sailed by Greg Peck in the UK won every regatta she entered. She was the overall winner of Class One Cowes week in the UK in 1994. In strong winds. Her slightly lower spec. sister Zapata won Class Two. Camp Freddie then went on to win the Round Isle of Wight race against 1800 starters. The only New Zealand design to make such a coupe.
The boat is very beamy, which makes for spacious cruising and can accommodate a lot of people for a 30 footer.
Due to the wide beam, there's a lot of volume below, so could optimise for cruising, although this is a little more sparse inside. You will have a lot of fun racing this boat, but can still have friends on for a barbie. You will not find better racing value for this price.
This one is in great shape and has been regularly raced and cruised with a good maintenance regime coming out the water each year for 3 months.
She starts planning at 11 Knots and down wind with the big red kite she achieved 20 knots in force 5-6 in waves on Round The Island Race