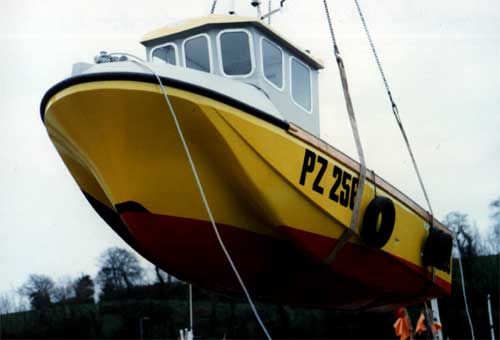 The CYGNUS CYGNET 23 is a rugged fast multi-purpose hull design, combining the attributes of exceptional stability, load carrying and seaworthiness.
Its shallow draft makes it ideal for shallow water or coastal operation. The trihedral hull for provides a wide steady work platform and efficient heavy sea performance making it ideal or sea angling, static gear fishing or survey/lifting.
The layout specified by the owner can be open or with a mid mounted / forward wheelhouse. The deck can be self draining or loose boarded. The robust internal structure and GRP construction can include buoyancy if required, ideal for passenger carrying applications. #
Propulsion can be outboards, stern drive or water jet and the craft will happily dry out with the need of any auxiliary equipment in any configuration.
Cygnus Cygnet Lines Plan and Specification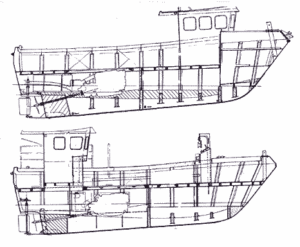 Some Diagrams are not to scale. All craft are custom built and may not match diagram above
Overall Length
Metric 7.0m Imperial 23'-0''
Draft
Metric 0.3m Imperial 1'-2''
Beam
Metric 2.75m Imperial 9'-0''
Engine Power
Metric 23 0Kw Imperial 300hp
Speed
Metric 55 kph Imperial 30 knots
Dimensions in FT and Inches
This Cygnus boat is available from 
Straitford House (Office)
Blandford Hill
Milborne St Andrew
Blandford Forum
DORSET
DT11 0JA
The Cygnet 23 is a new addition to our model range. An excellent sea boat for single handed operation.
Ideal for potting and netting.
Cygnus Cygnet 23