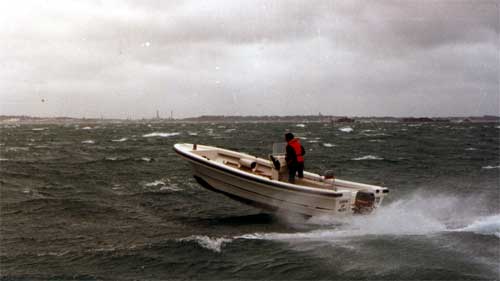 The CYGNUS BEACHWORKER is a fast multi-purpose fishing vessel and workboat particularly suited for beach launch / shallow water / river operation.
It can be powered by either petrol or diesel versions of stern drive or outboard configurations. The hull is available as both 23 or 26ft length and easily driven by lower power engines giving good fuel economy and efficient operation. (open boat with 2x40hp outboard achieves 25knots)
This fast planning hull is ruggedly constructed for commercial use, and features developed reverse chine's for spray deflection, stability and excellent directional control.
Currently these vessels are in operation with the INUIT in Hudsons Bay, West Africa, Middle East, West Indies and European waters.
BeachWorker Lines Plan and Specification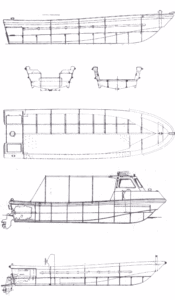 Some Diagrams are not to scale. All craft are custom built and may not match diagram above
Overall Length
Metric 7.0m Imperial 23'-0''
Draught Outboard
Metric 0.4m Imperial 1'-3''
Draught Outdrive
Metric 0.4m Imperial 1'-3''
Beam
Metric 2.1m Imperial 6'-8''
Engine Power
Metric 200 kw max Imperial 250 hp max
Speed
Metric 75kph Imperial 40 knots
Dimensions in FT and Inches
This Cygnus boat is NOT available