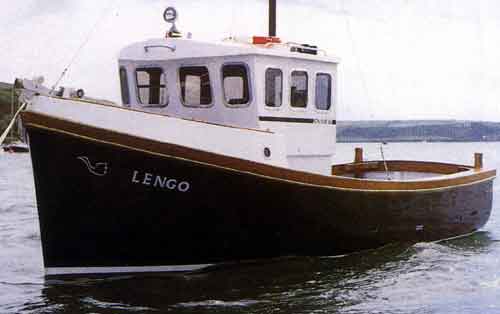 In order to achieve maximum flexibility, and meet the different skippers' needs, both the draught and the sheer line on the CYGNUS GM27 can be altered to suit the individual requirements. Full keel draught is 4'0″, and this to can be reduced normally to 3'3″, though it has in one special case been reduced to 2'6″ for a really shallow harbour application, but of course this will also reduce considerably the propeller aperture available. The sheer line can be also changed if needed.
GM27 - Lines Plan and Specification

Some Diagrams are not to scale. All craft are custom built and may not match diagram above
Length
Metric 8.23m Imperial 27'-0'
Registered Length
Metric 7.85m Imperial 25'-9''
Beam
Metric 2.9m Imperial 9'-6''
Engine Power
Metric 45-90kw Imperial 60 - 120 hp
Propeller Dia
Metric 0.76m Imperial 2'-6''
Speed
Metric 16kph Imperial 8.5 knots
Fuel Capacity
Metric 360 - 720 litres Imperial 80 - 160 galls
Dimensions in FT and Inches
This Cygnus boat is available from 
Cygnus Marine Boats
Straitford House (Office)
Blandford Hill
Milborne St Andrew
Blandford Forum
DORSET
DT11 0JA
info@cygnusmarineboats.co.uk
GM26 – With Gary Mitchell's iconic style of design, the craft has the maximum possible deck space for the overall length, since its beam extends as far aft as possible, providing the perfect working platform for carrying and safe shooting of all types of gill nets, pots and fish traps.
Below the waterline, the hull-form presents a very beamy boat with a flatter section aft, but by having a broad V-shaped vertical keel section, there is sufficient volume inside the forward section to take the engine completely below deck, giving this boat a very large working deck and the option of a moulded shallow or deep keel.
This combination produces a stable and seaworthy hull of exceptional quality.
Cygnus GM26