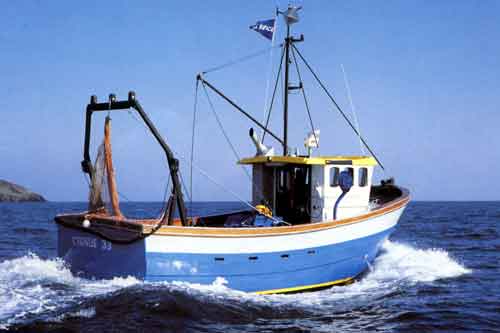 The CYGNUS GM33 is a modern design with excellent stability characteristics, suitable for many different fishing methods. She possesses a very fine entry, with well flared bows, to cope with the worse sea conditions. Cygnus Marine is approved by all the recognised classification societies, and each boat is carefully fitted out exactly in accordance with the needs of each individual skipper.
GM33 Lines Plan and Specification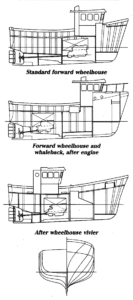 Some Diagrams are not to scale. All craft are custom built and may not match diagram above
Length
Metric 9.99m Imperial 33'-0''
Registered Length
Metric 9.2m Imperial 30'-3'
Draught
Metric 1.53m Imperial 5'-0''
Beam
Metric 4.10m Imperial 13'-6''
Fish Capacity
Metric 16 cubic meters Imperial 550 cubic ft
Fish Capacity
Metric 16 cubic meters Imperial 550 cubic ft
Fuel Capacity
Metric 1800 litres Imperial 400 galls
Engine Power
Metric 80 - 150kw Imperial 120 - 200 hp
Speed
Metric 18kph Imperial 9.5 knots
Propeller diameter
Metric 1.0m Imperial 39''
Dimensions in FT and Inches
This Cygnus boat is available from 
The Cygnus GM33 displacement hull is one of the most acclaimed in the in-shore fishing industry and is an extremely versatile vessel that can be used for trawling, netting and potting.
The vessel is extremely stable even in poor weather conditions and provides fishermen with superb handling in rough seas.
There are various design options for the Cygnus GM33 which Anderson Marine can make available to customers to give maximum flexibility and an excellent return on investment.
To find out more about our Kingfisher hulls then please do not hesitate to call us on:
+44 (0) 1779 477888 or e-mail at info@andersonmarine.co.uk