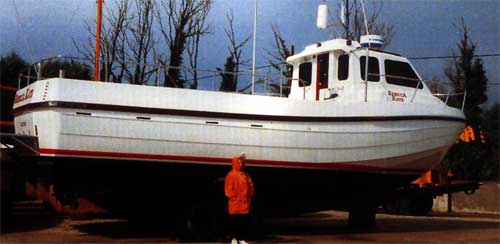 The CYGNUS Revenge 38 hull combines the load carrying and stability of an advanced wide bodied monohull, along with the improved sea keeping and handling on a "vee" form double chine design.
It is a fast, safe and steady work platform suitable for a variety of roles. Up to 4 berths are possible in the fore cabin. The wheelhouse can be extended to provide a more spacious galley and mess room.
The most striking feature of the RV38 is the enormous flush self draining deck, with flush hatches to the hold and engine compartment. The hull is powered by either a single or twin propulsion units – normally straight shaft drives.
Revenge 38 Lines Plan and Specification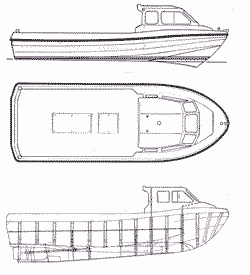 Some Diagrams are not to scale. All craft are custom built and may not match diagram above
Overall Length
Metric 11.70m Imperial 38.4'
Draught Full Keel
Metric 1.2m Imperial 3.94'
Beam
Metric 4.16m Imperial 13.65'
Hull capacity
Metric 14 cubic meters Imperial 495 cubic ft
Fuel capacity
Metric 1800 litres Imperial 400 galls
Deck Area
Metric 28 sq meters Imperial 300 sq ft
Speed
Metric 35 - 55kph Imperial 19 - 30 knots
Dimensions in FT and Inches
This Cygnus boat is NOT available from