Building on the success of the popular and well proven CYGNUS CYFISH and CYCLONE hull designs, the CYGNUS TYPHOON is intended for use as a fast workboat with applications for passengers, chartering, commercial fishing, angling, survey, patrol and leisure use too. Great efforts have been made, particularly on the lay-up schedule, using special stitched cloths, to reduce the overall weight, and maximise performance. The foredeck and wheelhouse are cored constructions for strength, insulation and stiffness, built as an integral moulding to contribute further to weight reduction. Many skippers find that the TYPHOON is much more gentle in a sea that a multi-hull, not slamming so violently when offshore, plus having greater buoyancy enabling it to carry a good load without excessive sinkage and loss of freeboard. Many commercial operators still prefer a single propulsion engine, with full protection for the propeller behind a full length keel and enclosed skeg/rudder. The TYPHOONs 4m moulded beam, combined with the CYCLONE type over-developed chines, and width carried right below the waterline, provide high stability for this class of vessel, at rest or on the plane. Twin engines can also be fitted if required, normally on shafts but jet drive or stern drives are an option.
Typhoon 38 Lines Plan and Specification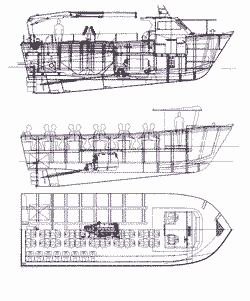 Some Diagrams are not to scale. All craft are custom built and may not match diagram above
Overall Length
Metric 11.6m Imperial 38'-0''
Draught
Metric 1.4m Imperial 4'-5''
Beam
Metric 4.0m Imperial 13'-3''
Engine Power
Metric 335 kw Imperial 450 hp
Speed
Metric 56 kph Imperial 30 knots
Dimensions in FT and Inches
This Cygnus boat is available from 
Eastern Hanger,
Mount Batten,
Shaw Way,
Plymouth
PL9 9XH
Welcome to Seahawk Workboats Ltd. Established in 2010, Seahawk uses a blend of traditional boat building methods and modern composite technologies.
The Cygnus Typhoon 
'33 / 38 / 44′

The Cygnus Typhoon offers excellent seakeeping ability with the largest deck space in its class. The overdeveloped chines offer an incredibly stable platform at rest and a dry ride at speed.

The Typhoon offers the best choice semi-planing hull available. Developed by Cygnus as the ultimate semi-displacement hull for the professional and demanding charter boat/fishing market. The Typhoon can be built to any stage from basic hull moulding to full sail away to your specification.