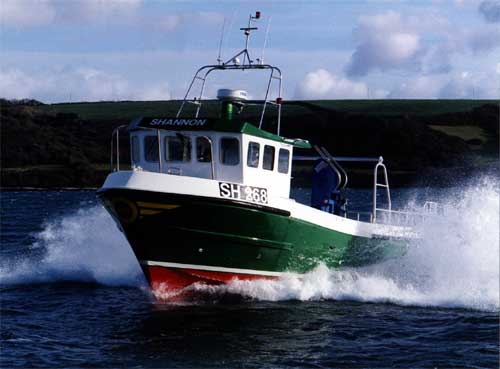 Already the first choice of fast planing 10m workboat, charter angler and fishing vessel skipper, the popular and successful CYGNUS CYFISH 33 FC has now been further improved by the introduction of new GRP moulded gunwales, a tunnel implant for smoother water flow and wider propeller aperture, and an increased choice in the selection of wheelhouse arrangements.
The new gunwales have increased bulkwards height by around 250mm, are much lighter and of course require no maintenance. They enable us to fit even larger engines or twin propulsion units under the flush decks and are much more comfortable to work against – and by the way we think they look good too! They are designed to match the forward "whaleback" moulding which allows the fore cabin to be fitted out either with 2,3 or 4 berths, WC and 2 berths or galley unit and 2 berths, several examples of which are shown in the gallery section and with full standing head room.
Cyfish 33 Lines Plan and Specification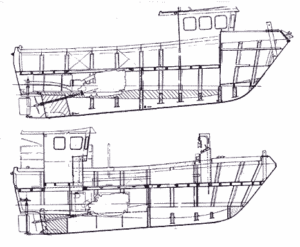 Some Diagrams are not to scale. All craft are custom built and may not match diagram above
Overall Length
Metric 10.0m Imperial 33'-0''
Depth
Metric 1.06m Imperial 3'-5''
Beam
Metric 3.65m Imperial 12'-0''
Engine Power
Metric 300 kw Imperial 400 hp
Fuel Capacity
Metric 680 - 900 litres Imperial 150 - 200 gall
Speed
Metric - Imperial 10 - 24 knots
Dimensions in FT and Inches
This Cygnus boat is available from 
Fionan Murphy
F.M. Marine Services Ltd
Ballymanagh, Valentia Island
Co Kerry, Ireland
Reg. Nr.: 9645613L
M: +353 (0)8 72 80 98 61
T: +353 (0)6 69 47 68 83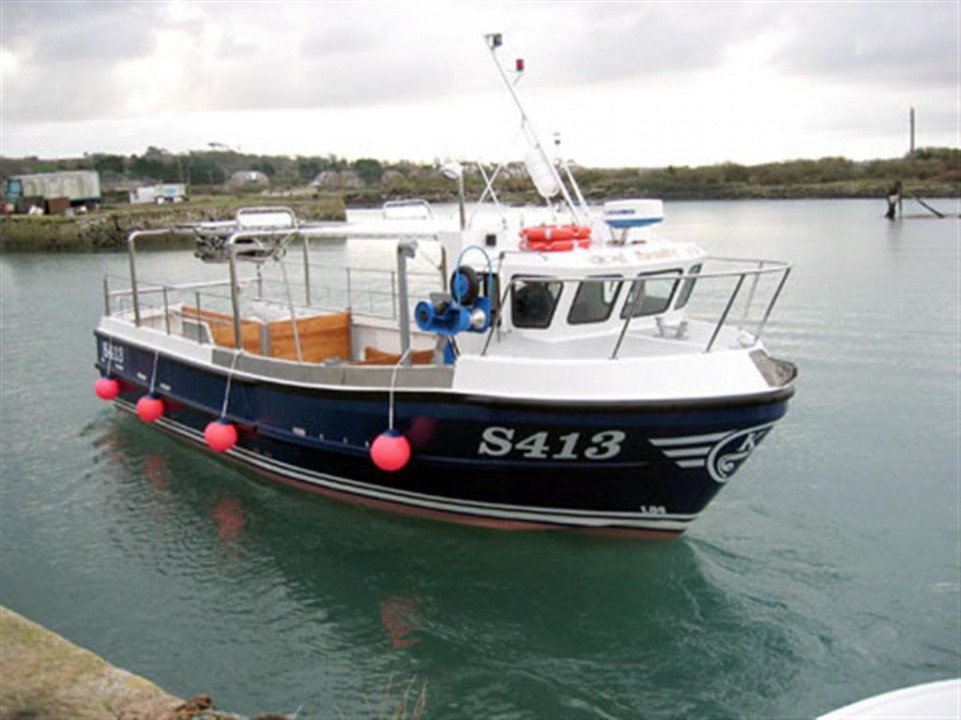 The Cygnus Cyfish 33 – 39 
The Cygnus Cyfish FC can be built in the size 33 to 39 feet and any length in between. These are the original Cygnus moulds. There is a choice of three different wheelhouses: The fisherman (trawler style) wheelhouse, the Angling wheelhouse and the Forward Control wheelhouse. See the pictures section for the different wheelhouses.
The hull is a strong, fast and bespoke semi-planning hull. The vessel has a large cockpit area. The developed shines and spray deflectors provide a very stable platform and a dry ride. The Cygnus Cyfish is the benchmark for any sea boat in its length.
Its performance in bad conditions makes it the preferred choice in its class. It can be supplied at any stage of completion for home or local boatyard fit out, or fully finished at our boat-building yard in Ireland.