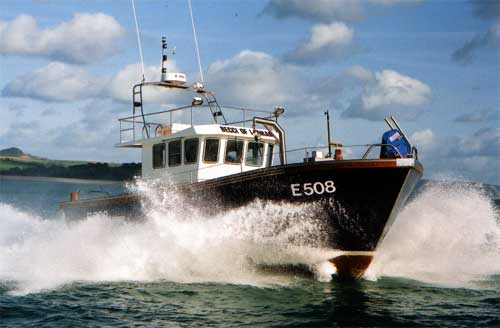 Building on the success of the popular and well proven CYGNUS CYFISH and CYCLONE hull designs, the CYGNUS TYPHOON is intended for use as a fast workboat with applications for passengers, chartering, commercial fishing, angling, survey, patrol and leisure use too.
Great efforts have been made, particularly on the lay-up schedule, using special stitched cloths, to reduce the overall weight, and maximise performance.
The foredeck and wheelhouse are cored constructions for strength, insulation and stiffness, built as an integral moulding to contribute further to weight reduction.
Many skippers find that the TYPHOON is much more gentle in a sea that a multi-hull, not slamming so violently when offshore, plus having greater buoyancy enabling it to carry a good load without excessive sinkage and loss of freeboard.
Many commercial operators still prefer a single propulsion engine, with full protection for the propeller behind a full length keel and enclosed skeg/rudder. #
The TYPHOONs 4m moulded beam, combined with the CYCLONE type over-developed chines, and width carried right below the waterline, provide high stability for this class of vessel, at rest or on the plane. Twin engines can also be fitted if required, normally on shafts but jet drive or stern drives are an option.
Typhoon 33 Lines Plan and Specification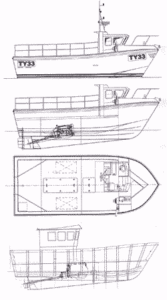 Some Diagrams are not to scale. All craft are custom built and may not match diagram above
Draught
Metric 1.20m Imperial 4'-0''
Beam
Metric 4.0m Imperial 13'-3''
Overall Length
Metric 10.0m Imperial 33'-0''
Engine Power
Metric 300 kw Imperial 400 hp
Speed
Metric 56 kph Imperial 30 knots
Dimensions in FT and Inches
This Cygnus boat is available from 
Brian Vandenberghe
Sales Agent:
Brian Vandenberghe
Jan Blockxstraat 5 B31
2018 Antwerp
Belgium
M: + 32 (0) 473 34 61 99
T: +32 (0) 3 218 91 16
Fionan Murphy
F.M. Marine Services Ltd
Ballymanagh, Valentia Island
Co Kerry, Ireland
Reg. Nr.: 9645613L
M: +353 (0)8 72 80 98 61
T: +353 (0)6 69 47 68 83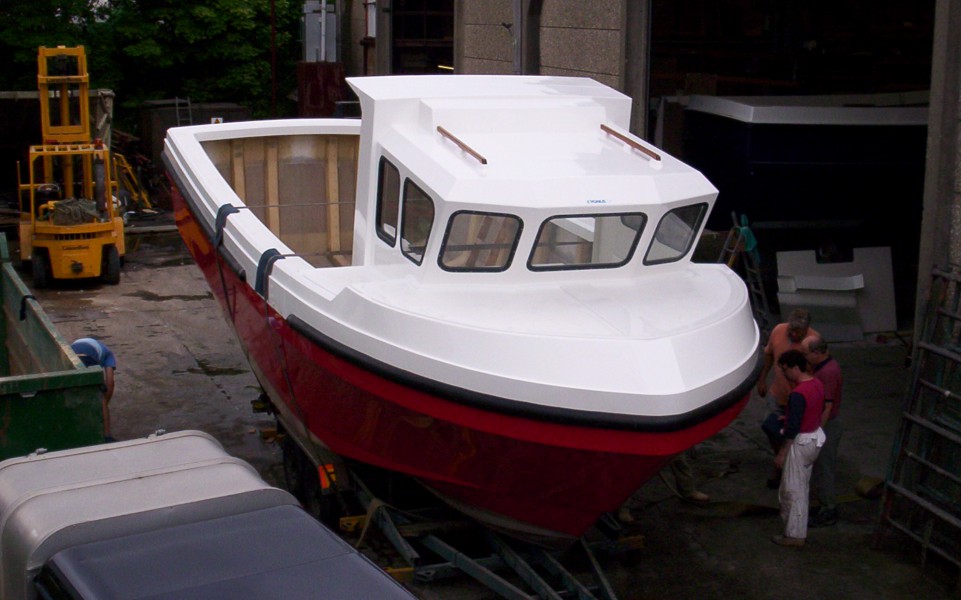 The first sale was to a Belgian customer who bought a Cyclone 30 after seeing it advertised on the web.
Over the next few years the company worked on building a reputation for building quality custom-made boats.
The Cyclone range now includes six models and continues to be the most popular.
But Mr Murphy has also purchased other Cygnus moulds and now offers a range of 12 models on his website.
"In 2015 we again got help from Kerry Local Enterprise Office to buy the mould for the Cygnus Typhoon which can be built up to 45ft and is now our largest model," says Mr Murphy, adding that work has now commenced on the construction of the company's first Typhoon for a customer in Donegal.
Since 2008, Murphy Marine has built 28 boats and is expecting to build six more this year. With assistance from the Leader programme, the company expanded the boatyard in Valentia to 8,500 sq ft in 2013.
Now employing a staff of 10, the company is in the process of recruiting two more and expects to have 14 people by the end of the year. Mr Murphy estimates that sales have been growing by 5% to 10% every year.
Since the economy improved here, the market has picked up and the Typhoon for Donegal will be its fifth Irish sale.
"I don't think we could do this to the same scale without the Internet. It would take a massive amount of marketing," says Mr Murphy.
He says its success is because of the reputation of the Cygnus brand and its ability to produce high-quality and custom-made boats.
Not relying solely on the Internet, he and his Belgian sales agent regularly attend trade shows in across the rest of Europe.
Plans for the future include growing sales in the French market.
Mr Murphy also sees increased opportunities to sell passenger vessels to service the marine tourism sector here and across the rest of Europe.